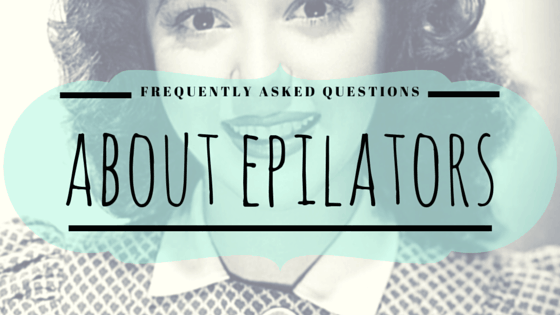 There is a lot to learn about epilators, especially if you are starting out. Instead of making you hunt all over the web for some basic answers, we've got all the most common questions hanging out together. Just click on a question to get the answer.

What is an epilator?
An epilator is an electronic health and beauty device that features rotating springs or discs or mechanical tweezers that pull hairs out by the root.
What is an epilator used for?
An epilator is used to remove hair at the roots. Once hair is removed at the roots, it takes days or weeks to grow back, so epilator users have beautiful, hair-free skin longer. It works similar to waxing except epilation usually does not disturb the skin.
What is epilation hair removal?
Epilation hair removal is the use of an epilator to remove hair anywhere on the body, from the legs, to the face, to the bikini area. Epilation hair removal can be a one-stop shop, leaving you free of unwanted hair for much longer than shaving does.
Do epilators work well?
Does tweezing work well? That's what an epilator essentially does: it's tweezing on steroids. Twenty or more discs or coils work at the same time, grabbing hairs and pulling them out at the root. Many epilators call pull out hairs shorter than a millimeter! Now, like waxing, this can be a painful process. And if you are not careful, you can end up with ingrown hairs, so exfoliation is a must if you epilate. But on the bright side, you will be hairless for quite a while: anywhere from several days to a week to a month at a time. If you continue to epilate, hairs will begin to come in much thinner or stop growing at all over time.
Can you use epilator on face?
Do epilators work for facial hair? Why yes, they do. Women with both peach fuzz and darker, course hairs use epilators to keep their faces hairless. Just make sure to use an epilator that is recommended for facial hair. Some epilators should not be used on the face. Check out our epilator for face hair reviews for more informaion.
Do epilators work on the bikini area?
Yes.This can be a more sensitive area, but if the pain is tolerable, epilating is a great option for the bikini area for many reasons. No more of those awkward salon visits is one!
Do epilators hurt?
Yep! No pain, no gain, right? Seriously though, epilating does hurt, especially at first. As your body gets used to it, pain will subside. If you are uber sensitive to pain, epilators might not be for you. Or you might have to limit epilating to only certain areas of the body. Some women find it too painful on the face and bikini area, but have no problems with the arms or legs. Your mileage will vary! But for decades, women around the world have chosen epilators over less painful methods because it can be well worth it. If you want to reduce the pain caused by epilators, check out our tips for reducing pain when epilating.
Does epilation hurt more than waxing?
Ask ten different women this question and you'll get ten different responses. For some women, it does hurt more than waxing. For others, it is the opposite. Some find waxing so painful they can't handle it and find it a breeze to epilate. And vice versa. Here's a hint: take tweezers to an uncharted territory such as your ankles. Pluck a few hair quickly. That's how epilating feels, but you'll have many more tweezers pulling at once. With epilating, you'll feel the pain longer, since waxing just rips out so many hairs at once. Epilating takes it slower, pulling out less at once. The pain is usually not as intense all at once.
Should I use an epilator?
Is your current hair removal method lacking? Does waxing and/or shaving irritate your skin? Is it hard to find time to shave? Then epilating can be worth a try! Epilating works best for women who want to limit hair removal to once or twice a week and those who aren't afraid of a little discomfort in the name of beauty and overall convenience.
How to use an epilator to remove hair?
The most important step in using an epilator is to read the instruction manual for your device. Every epilator is different, and to be safe, you need to do what the manufacturer tells you to do. However, there are some universal things to know about epilating. First, clean and exfoliate your skin while opening your pores with a warm bath or shower. If you are using a dry epilator, you will need to get out and dry off, but you can epilate in the bath/shower if using a wet epilator. Hold your skin taut as you move the epilator over it in a slow, steady motion. When you're done epilating, apply a soothing cream to help with irritation. When irritation subsides, don't forget to exfoliate again to prevent ingrown hairs. Make sure you continue to exfoliate regularly.
What is the best epilator?
The truth is, there is no such thing! Every epilator on the market has its pros and cons. Our epilator guide can help you find the best epilator for your personal needs and budget.
What is the best epilator brand?
As with the best epilator, the best brand is also dependent on your personal needs. Braun is one of the best selling epilator brands currently. Emjoi and Epliady are two companies that specialize in making epilators. Panasonic, Philips, and Remington are also brands with quality epilators.
Should I epilate before or after shower?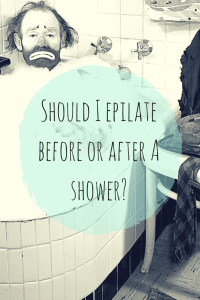 People have often asked us, "do epilators work best before or after showers?" Well, it is very important to shower before epilating. A warm shower will open up your pores and calm your skin. Exfoliating in the shower with a loofa or exfoliating scrub will help prevent ingrown hairs as well. For optimal results, exfoliate a day before epilating and take a warm bath or shower a few minutes before epilating. If you want to, you can shower or bathe as well after epilating to help soothe skin or to exfoliate again.
What is the difference between wet and dry epilators?
Dry epilators generally costs less and are for use outside of the tub. They need to be kept dry or will likely stop working. Wet epilators, on the other hand, are designed to be waterproof. You can use them in the bath or shower which can be very convenient for many users (think about shaving: do you do it inside or outside of the tub?). They are also easier to clean. Dry epilators usually must be cleaned with a dry brush or towel, while wet epilators can be cleaned with water and even soap.
Where to buy an epilator? Or where to buy epilator in stores?
If you're lucky, you might find epilators at local stores, such as Sally Beauty, but don't count on it. Even stores that sell epilators online do not always have them in their brick and mortar stores. If you want to buy one locally, search online or in your yellow pages for beauty supply stores and call ahead to make sure there are epilatorsi n stock. For guaranteed in-stock items and a wide selection, Amazon.com is a dependable, safe choice. Other options include online drug and beauty supply stores, such as Walmart.com.