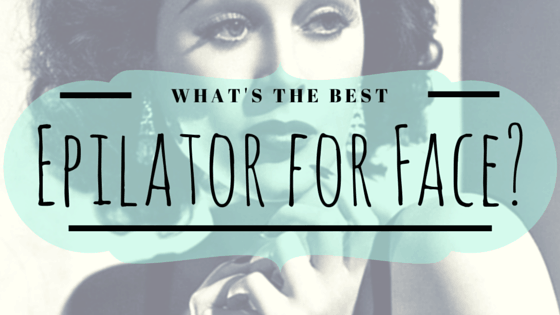 If you have unwanted facial hair, you are not alone. In a survey of women, 40% reported that they had unwanted facial hair. And it turns out, this seemingly benign issue is not just a cosmetic one. Women who suffer with facial hair often say that it negatively affects multiple aspects of their lives, including their relationships, careers, self esteem, and confidence. In fact, in the same survey, 30% of women with unwanted facial hair also experienced clinical depression.
Causes of Facial Hair in Women
Common causes of facial hair in women include hormonal issues such as poly-cystic ovary syndrome and menopause, medications, and heredity or ethnicity. I do not have unwanted facial hair at the moment, but I've dealt with it in the past as a side effect of medication for an autoimmune disorder. It was horrific to look in the mirror one day to see a mustache taking over my upper lip and side burns growing down the sides of my face! I took to my face like a maniac with tweezers. I was in the hospital, so I had plenty of time on my hands, but the tweezers still left me with lackluster results. If I had a job and things to get done at that time, I surely would have benefited from more effective hair removal methods like an epilator for face.
How to Remove Facial Hair

There are many options to control facial hair in women. If hormones are the cause, a trip to the doctor may be helpful. He or she can offer you advice and possibly a prescription that will help solve the underlying cause of your hair growth. Besides this, there are multiple facial hair removal methods: waxing, shaving, electrolysis, laser, creams, shaving, threading, and epilating, each with their pros and cons.
For most women, laser or electrolysis are the ideal method for facial hair. These two hair removal methods can can have permanent results in many instances. Unfortunately, these two methods cost a pretty penny (we're talking potentially thousands of dollars). So for most of us, it's out of reach. But don't fret, my dear! There are still several more options.
Shaving removes hair at the surface. It is fast, easy, and inexpensive. But is it a good choice for women? Shaving grows back quickly, and since it makes hair ends more blunt, it appears thicker when it grows back. It is also harsh on skin. According to Anita Bhagwandas, a beauty editor at the Guardian, "Shaving is not only inflammatory (causing sensitivity), but it also makes the skin look more papery and thin. Add a five-o'clock shadow to the mix and you're undeniably causing your skin damage."
Waxing, depilatory creams, and epilating are tactics that remove hair at the root. This means that hair takes longer to grow back (two to six weeks), freeing up precious time. Even more, hair tends to grow back thinner over time. This is a big advantage for women with facial hair. But all of these methods have come cons too.
Waxing can be done at a salon or home. Either way, you're dishing out money on a regular basis. And tons of skin cells are ripped out with all those hairs. This can result in inflammation, red bumps, and rashes for some women. According to Evergreen Beauty College,"Your face may look slightly blotchy after your waxing session."
With waxing, the hair will be gone for a while, but you'll have to let some stubble grow out before you can wax again. There is also a risk for ingrown hairs. And did I mention these methods can hurt like a mofo?!
A less painful way is using depilatory creams. These dissolve the hairs instead of pulling them out so that part doesn't hurt. However, they are full of nasty chemicals that may or may not affect your skin with burning or rashes. They smell, well let's just say….not pleasant.
And then we have epilation. This can be done via threading or with a mechanical epilator. Of course, using an epilator is my fave. Sure, the other removal methods have their place and purpose, depending on your skin type, hair type, and preferences. But for me, an epilator is about as good as it gets in the hair removal realm, especially if you are specifically using the best epilator for face.
How to Find the Best Epilator for Face
A good epilator pulls both thick and thin hairs out by the root, leaving hairless skin for weeks at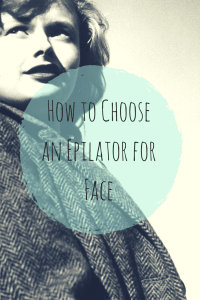 a time. It should be incredibly easy to use. Unlike waxing, creams, and shaving, epilators are pretty gentle on the skin and are virtually free to use after a single purchase. The multiple tweezers on an epilator for face pull tons of hairs out at once, so I can get the job done quickly. Like waxing, it can hurt like a mofo too, but I've found the pain to be more tolerable as time goes on. It's like my experience with tweezing my brows: in the beginning, it was almost torture, but now it is basically painless.
So how can you tell if an epilator for face is worth buying? Here are some things to look for when you're searching for your best epilator for face:
Long-Lasting Power: You need an epilator that will stay on until you are done using it. Unfortunately, some battery powered epilators don't last more than 15-20 minutes. So if you think you'll need one longer than that, make sure it is corded or will stay charged long enough for your needs. You also need one that will be powerful enough to pull out your hairs. Don't go for anything that requires less than 2 AA batteries.
Durability: No one wants to buy a product that will just bite the dust in a few months. And you definitely don't want to go to epilate your emerging mustache to find your epilator out of service! A good epilator should last for years without needing repairs, so search for clues on durability when reading reviews. A warranty is also a good sign.
Ninja Skills: When using an epilator on face, you want one that can sneak up on the tiniest of hairs and defeat those suckers. The last thing you want to do is grow out long stubble on your face. Make sure the epilator is designed to pull out super short hairs.
Engineered for Facial Use: It is possible to use about any epilator on the face, but that doesn't mean that you should. You want the best results on this delicate area, so look out for epilator specifically designed for the face. These will have smaller heads with less tweezers so you can navigate all the nooks and crannies on the head and neck.
Which Epilator is Best for Face?
After carefully reviewing dozens of epilators on the market, we have found a few that work great for facial hair. However, there is one that stood out as the best epilator for face:
Braun SE7681 Silk-épil 7 Wet and Dry Epilator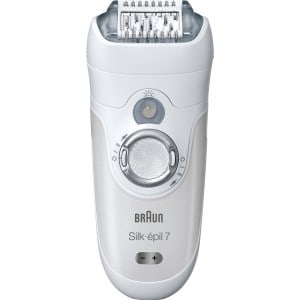 It you've roamed around our site much, you know we love Braun Silk-epil epilators. This one is no exception. If you plan to epilate more than just your face, this epilator will kill two (or more!) birds with one stone for you. The Braun SE7681 is designed for face, body, and legs. But unlike many epilators that purport to work well on all these areas, this epilator actually does. How? It comes with multiple caps that you can switch out, depending on your needs: a facial cap, a sensitive area cap, an efficiency cap, a shaver head, and a trimmer cap.
This is a wet/dry cordless epilator with lots of power, durability, plus some bells and whistles. It will run about 40 minutes on one charge, which is enough time for a session of epilating, especially if you're just removing facial hair. And it's powerful enough to get the thickest of hair. Braun provides a one year limited warranty, although it's designed to last much longer than that. Cool features include massage rollers that relax skin and reduce discomfort, a "smartlight" so you can see what you're doing better, and two different speeds.
There are a few reasons why we recommend it specifically for the face. The facial cap pops on easily, making a slimmer head with less tweezers exposed. Like other Silk-epil epilators, it has "close grip technology." It can grip and remove hairs as short as 0.5 mm. This is especially important when dealing with the face as we want to remove those hairs as soon as they start coming in.
This epilator is good at pulling out both coarse hairs and peach fuzz, both of which are often found on the face. Even more, it can pivot up to fifteen degrees and works nicely for hard to reach areas on the face, jaw, and neck.
Of course, even the best epilator for face can't be all rainbows and butterflies. Some people report that the extra power and speed makes for a more painful experience. A few people have complained on-line that the SE7681 they recieved was a dud, but the warranty makes that less worrisome. And then there is the price. It's one of the pricier epilators on the market. However, as of writing, this epilator has over 450 five star reviews on Amazon alone, so we're not the only peeps who love it.
Bottom line: Which epilator is best for face? The Braun SE7681 Silk-épil 7 Wet and Dry Epilator is a nice, high-end epilator that gets the job done on not only the face, but the body and legs as well.
What about you? Have you found an epilator that works great on your face? Want more epilator for face hair reviews? Let us know in the comments!
Sources: