Advice from Real Women who Understand the Hair Removal Struggle: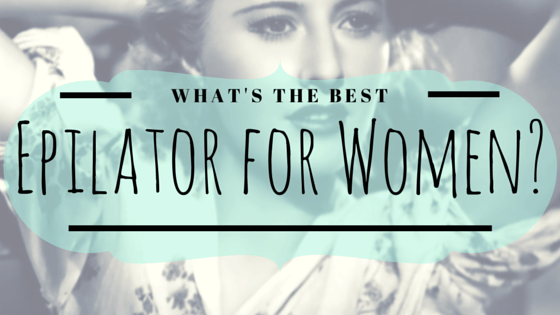 Girl! We know you have priorities. You want the kind of smooth, gorgeous, hairless skin that leaves you worry-free in shorts or a bikini. But shaving daily is so boring and waxing can be an expensive mess. You need a quick, affordable solution that will leave you with ravishing results. That's why you've got your eyes on finding the best epilator for women.
If you're asking yourself, "which epilator should I buy?" and are totally overwhelmed with the options, you're in the right place.  Finding the best epilator can be a daunting task. We've been there, done that. Lucky for you, we've put together this guide — so you can get all the information you need about epilators — in one place, without all the painstaking work we went through.
Ultimate Epilator Guide: Find the Best Epilator for You

| Photo | Epilator | Price | Rating |
| --- | --- | --- | --- |
| | Panasonic ES-ED90-P Ladies Wet and Dry Epilator/Shaver | $$ | 4.5 |
| | Braun Silk Epil Female Epilator Se7921spa | $$$ | 4.2 |
| | Philips HP6576 Satin Perfect Deluxe Epilator | $$$ | 4.2 |
| | Remington Smooth and Silky Full Size Epilator (EP6010) | $ | 4.2 |
| | Braun Silk- Epil Xpressive Easy Start Body&Face Rechargeable Epilator | $$$ | 4.1 |
| | Emjoi Optima Corded Epilator | $$$$ | 4.6 |
| | Epilady EP-810-33A | $$ | 4.2 |
| | Emjoi Soft Caress Epilator | $ | 4.1 |
| | Panasonic ES-WD51-P Ladies Wet/Dry Epilator | $$ | 4.0 |
| | Braun Series 5-5280 Silk Epil Epilator | $ | 3.9 |
Types of Epilators
There are three types of epilators. The first epilators to hit the market were the spring type. As the name suggests, they had rotating coil springs. This motion caught hairs in the spring and pulled them out at the root.
Very similar to spring eplialtors, rotating disc epilators are another type. They use a rotating motion to catch and pull hairs, but instead of a spring coil, they utilize ceramic discs.
Lastly, there are tweezer epilators. These use multiple mechanical tweezers that work together to pull hairs out simultaneously.
All three types of epilators work well to pull out hair, but the tweezer type is the most popular. Most epilators these days are the tweezer type epilators. The best epilator for you will likely be the tweezer or rotating disc type.
Advantages of Using Epilators
or Why Use an Epilator?

Ain't nobody got time fo' that. Shaving is a daily chore that wastes time and energy. Although waxing can be done less often, you still have to make a trip to the salon if you want it done well. Saving you precious time, one session with the best epilator for you in your home can rid you of hair for a week or more.
You'd rather spend your hard earned money on shoes. Or dining out. Or, you know, bills. Money is a finite resource and why waste it needlessly on razors that you have to continuously throw out? Instead, a single purchase of the best epilator is all you need to remove hair for years to come.
You'd like to see your body hair growing back thinner. This is a cool side-effect of using an epilator. Your hairs grow back slowly, and come in thinner. Many long term epilator users report that their body hair stops growing at all after years of use.
You want silky smooth skin all over your body. That's the beauty of epilation with the best epilator for your hair type, your hairs are removed at the root, leaving behind no stubble and no dark shadow. Your skin looks and feels younger and fresher.
You care about mother earth. Instead of adding more and more trash in the form of razors to landfills, you can go green effortlessly by making one purchase of the best epilator for you.
You need a badass reputation. Okay, this is probably not what you are going for, but once people hear that you're epilating, prepare for them to stand in awe of your fierceness. Just don't tell them that the pain subsides after a few uses.

Reviews of Epilators for Hair Removal: The Top 5 Epilators

Panasonic ES-ED90-P Ladies Wet and Dry Epilator/Shaver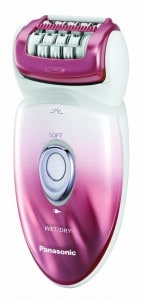 Review sites and forums alike agree with us, The Panasonic ES-ED90 Wet/Dry Epilator is one of the best epilators.  This bad boy features a pivoting head with 48 tweezers that hugs the skin and grasps more hairs in one stroke, even on hard to reach areas like curves and joints (think underarms). Whether you're a newbie or just like us (experienced wimps!), you can pop on the "gentle cap" to help reduce pain and keep sensitive skin happy.
What we really love about this wet/dry epilator is the option to add shower gel or foam to the head. Epilating this way helps guard the skin from the tweezers and results in softer, damage-free skin.
Like most of the top of the line epilators, the Panasonic ES-ED90 has a few other bells and whistles like an led light, so you can see hairs better as you take them on, as well as a fancy foot care head for some pedicure action.At around $100, this tool is not cheap, but still a good deal consider all that it comes with and the money you'll save when you kick razors to the curb.
Wondering which braun Epilator to buy? This is it. Although there are some mighty fine epilators on this best epilator list, the Braun Silk Se7921spa is our favorite, as it is the best epilator we've used this year.
We all know how important exfoliating is to prevent ingrown hairs when epilating. With this epilator, we can get both epilation and exfoliation done well and quickly thanks to the exfoliating brush head. Use this head on any part of your body for a smooth, spa-quality finish. What woman doesn't want a little spa experience with hair removal?
Besides that, this sucker has "close grip technology." This is just an elaborate phrase for "it can pull hairs as shorts as a grain of sand."
And like our other faves, this epilator is for both wet and dry use, pivots to your skin, and has a handy dandy light. You can find it for about $90, a nice price for a such a well-engineered epilating system. Wondering where to buy braun silk-epil 7? Just click the image on the right.
Philips HP6576 Satin Perfect Deluxe Epilator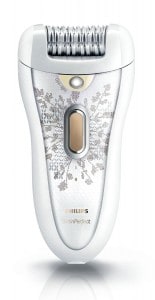 For those of us who forget to charge our electronic devices, there is an accommodating cordless epilator in the Philips HP6576. This epilator is cordless, but can be used while plugged in if you have let the battery die. Another lovely feature is a wider-than-average head so you can get your epilating done faster. It also massages as you epilate. How cool is that?! This is definitely a best epilator for women.
Like many other top-of-the-line epilators, you'll find an led light, cleaning brush, a hair lifter, and a trimming comb.
The main drawback of this beauty is that you must grow your hair to 3 or 4 mm before it will work well. It's also a dry epilator, so water can only be used to clean the head. And you can't use it on your face. Overall, this is for you if you'd like a quick, no-nonsense epilator to use on your legs after the hairs surface. It can be had for around $110.
Remington Smooth and Silky Full Size Epilator (EP6010)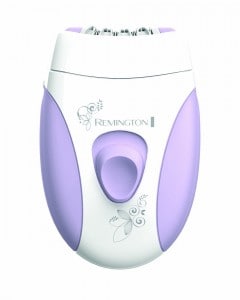 With a name like, "Smooth and Silky" you know there has to be something special about this epilator. Well, basically, it's the price. At $70, it may not be the highest rated or absolutely best epilator, but it is perfect for the more price-conscious. And don't think it skimps on quality. It even comes with a 2 year warranty to back it up. This product also has a whopping 42 razors so you'll be getting the job done quickly.
For the lower price, you will have a dry-only, corded epilator and sacrifice the light that the higher priced epilators come with. But overall, you'll have quick epilator without the bells and whistles at an affordable price.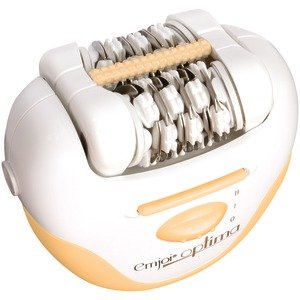 Emjoi epilators have been around the block a few times. They know what they are doing and what discerning women want. This model is one of their top-rated epilators. It has amazing durability, with online reviewers reporting year after year of trouble-free use. The Optima is a one-stop hair-removal shop as it can be used all over the body including the face and bikini area. For hard-to-epilate areas, it even comes with a shaver.
It is corded, but this is not a problem for many people. At $150+, it's definitely one of the pricier epilators for hardcore epilator fans, but if you are one of those fans, it may be the best epilator for you.