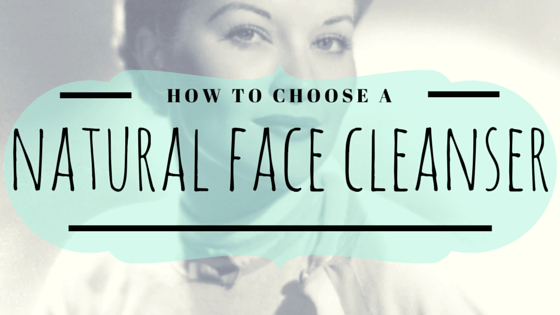 Cleansing your face removes the top layer of dead skin cells, oil, sweat, dirt, and pollution. If skin is not cleansed properly, it can become dull, flaky, and prone to blemishes. Using a natural face cleanser is an obvious choice to reap these benefits while also avoiding unhealthy and environmentally damaging chemicals found in conventional cleansers. However, with many options, along with the trend of green-washing, it can become incredibly overwhelming to find a truly natural face cleanser.
As we've explained in other posts, there are specific things to look for when buying certain products, such as epilators for facial hair. As you're searching the market of natural facial cleansers for the one that's best for you, there are four questions you can ask yourself to help you make the best choice:
1. What's your skin type?
Do you have normal skin? Are you acne prone, with larger pores and oily skin? Or does your skin fit more of a mature profile, with fine lines, wrinkles and dry skin? Perhaps you have sensitive skin that breaks out easily?
Identifying the category your skin falls into is the first step in choosing the right facial products and achieving a better complexion. A quality natural face cleanser line will have several different cleansers available, tailored to fit the needs of varying skin types.
2. Is it antibacterial?
Triclosan is a non-biodegradable chemical commonly used in anti-bacterial soaps, including facial cleansers. In studies, this chemical is linked to cancer and hormone dysfunction in humans. It's frequently found as pollution in waterways where it disrupts wildlife and natural ecosystems. Clearly, avoiding any products containing triclosan will put you on the path to a greener cleanser. Unfortunately, many facial washes deemed to be "natural face cleanser" have this ingredient in them.
3. Are the ingredients plant-based?
Conventional cleansers are made with synthetic ingredients derived from petroleum. These are inherently unsustainable and stay in the environment in a virulent form indefinitely. A totally natural facial cleanser replaces these dangerous chemicals with wholesome ingredients procured from plants. The most dangerous and notorious ingredients you should certainly avoid when you buy a natural face cleanser include parabens, propylene glycol, sodium lauryl sulfate, phthalates and fragrances other than plant-based essential oils.
4. Is the natural face cleanser certified organic?
Labeling standards for personal care products do not regulate the terms- "organic" or "natural."  Any product can call itself natural or organic, regardless of its ingredients. Looking for a USDA Certified Organic Seal is the only way to guarantee that an organic facial cleanser is truly organic. This seal can be used only on products with at least 95% organic ingredients.
This certification is also the only assurance that your facial cleanser will not contain 1,4-Dioxane, a cancer-causing containment that is formed in the manufacture of dozens of different personal care products. Since it's a bi-product of production and not intentionally added, the FDA does not require companies to add it to the ingredient lists. However, organic food standards do not allow the processes that create 1,4-Dioxane, so any certified organic product will naturally be free of this unhealthy chemical. So to stay on the safe side, make sure you purchase a certified organic natural face cleanser.